Differing from other threading processes like cutting or chasing, thread rolling utilizes the cold formation process to create strong, uniform thread forms. For this particular method, a blank is rotated between hardened steel dies which have the reverse thread form, causing the dies to create thread roots, while displacement of material radially outward during the process creates the crests.
It is a "chipless" forming process and is a fairly new technique, but it promises an improved process for any industry that utilizes it. Ultimately, it's a preferred method for the following reasons:
Precision:Thread rolling gives smoother, more uniform threads over long runs.
Cost:Fewer raw materials are needed for thread rolling, which saves you money and doesn't waste material.
Quality: A superior thread finish leads to longer life for your parts and a greater finished product.
Strength:Thread rolling is cold-working, which means when compared to other methods, the tensile stress, tensile load, and structural integrity is better.
Rolled threads result in better rods.
Your product will have improved tensile strength, shear and be resistant to fatigue. Better resistance to fatigue happens because the thread grain structure is not severed during the thread rolling process. During this exacting process the threads are formed without cutting into the metal which creates a level of weakness to the structure. The thread rolling process shapes the part by reforming it by displacing the material, not cutting it.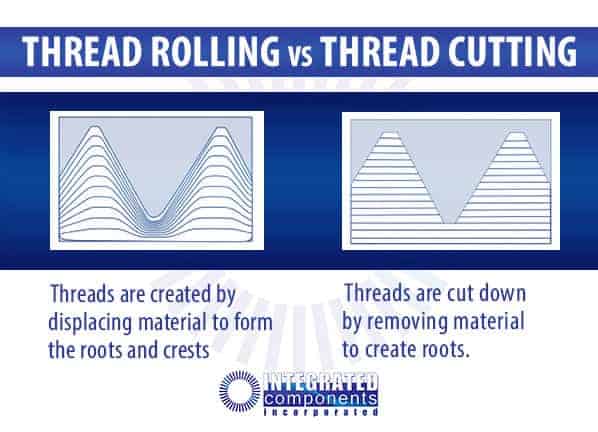 In such a high technology industry as aerospace, it's necessary to have parts with threads with very little variation and to be made of a metal with a high level of strength. For this reason, aerospace metals are not easy to machine into parts. The necessary force needed to form the precise threads must be done on equipment designed just for this purpose in order to assuredly achieve the necessary level of quality.
Thread rolling isn't something you are going to do in all circumstances. Instead, it is something you might need occasionally. But don't worry, you don't need to buy the expensive equipment required for this technique – we've already done that for you! Instead, reach out to us and we can help you.
Thread Rolling FAQs
Why use thread rolling over other methods?
Thread rolling is faster, more cost effective, and provides a more uniform thread over the entire lot of parts.
What materials can you thread roll?
Aluminum, hardened steels, titanium, etc.
What is your lead time on thread rolling?
Lead time starts at 3 weeks and increases from there, depending on the complexity of the thread rolled part or the tooling required. Request a quote below.
What size parts can you thread roll?
Integrated Components can thread roll parts up to 2.00″ in diameter.
Video
Integrated Components Inc. is a premiere manufacturing facility located in Wichita, Kansas with customers from across the continent.
With nearly 20 years of proven quality work, you can count on us to deliver high quality gear cutting, part manufacturing, and assembly.
We serve various industries which include aircraft, defense, racing, printing and recreation. Contact us today to learn how we can deliver the exact precision and quantity you need.
Tell Us About Your Project
If it has to do with gears, you are in the right place.