Lathes
Integrated Components has a variety of equipment to handle your manufacturing needs including lathes.
Lathes rely on a rotary movement to cut, sand, drill and perform many other operations on a workpiece. The workpiece remains stationary while a cutting tool fixed to a movable mounting advances into the piece at precise angles to create the desired cut. At Integrated Components, we use lathes to perform everything from the creation of simple tools to complex milling operations.
HwaCheon
With more than 60 years of manufacturing excellence, HwaCheon is the industry's leading producer of machining technology. Despite its simple design, the HwaCheon turning lathe can produce intricately detailed parts and is considered a precision tool for a diverse range of industry work pieces.
Mori Seiki
The DuraTurn series of lathes is an incredibly efficient, high performance system that delivers reliability and diverse functionality that allows Integrated Components to meet the needs of an ever changing machinery industry.
Complete with normal turning capacity as well as live-tooling holders, the Mori Seiki is used for the completion of secondary operations, including drilling cross holes, cutting slots, and milling hex heads on bolts.
Mori Seiki – NLX 2000
The NLX2000 model of the prestigious Mori Seiki line is capable of producing a diverse set of workpieces including everything from intricate machining pieces to automobile and aircraft parts. Complete with the latest in turning technology and conversational programming, this outstanding manufacturing machine allows Integrated Components to make parts complete in one setup, saving time and production cost.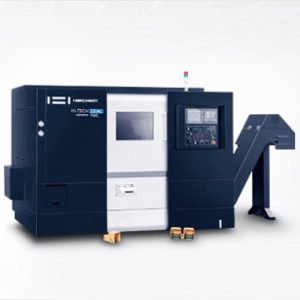 Hi-TECH 230
New Standard for 8-10″ lathe faithful to the basics.
8-10″ Chucker Box Way Type Horizintal Turning Center.
Hi-TECH 230 Provides more reliable machining performance based on excellent machine rigidly and upgraded specifications compared to the existing 8-10″ lathes with box way structure.