Integrated Components is dedicated to skillfully machining a wide range of components for various industries. We were founded in September 2001 by Larry Shorter and have since grown into a premier manufacturing facility in the Midwest located in Wichita, KS with customers and a supply base that spread across the continent.
We are committed to providing high quality parts at a fair price per schedule. We believe in helping our customers succeed. Through our robust quality and manufacturing systems, we keep our customer updated at every step of the production cycle. Let Integrated Components' supply chain experts handle the most difficult project for you. We can make parts to a traditional due date schedule but we also offer inventory solutions such as min/bin, min/max and inventory tracking.
We offer a wide range of capabilities, including CNC turning, CNC milling, gear hobbing, gear shaping, gear broaching and keyways, thread rolling and assemblies.
Precision, integrity and reliability are the foundations of our commitment to serving you. We will seamlessly integrate into your supply chain.
Let Integrated Components handle your next manufacturing need.
Contract Manufacturing Experts
Progressive Management Practices

Lean Focus
Cellular Plant Layout

Aggressive Continuous Improvement Practices
Gear & Spline Specialists
Commitment to Quality and Delivery
Innovative Inventory Solutions
Larry
Larry has been in the manufacturing industry for over 30 years. He founded Integrated Components Inc. (under the name J & L Gear and Machine) in 2001. Prior to founding Integrated, Larry worked for some of the largest Tier One suppliers in Wichita.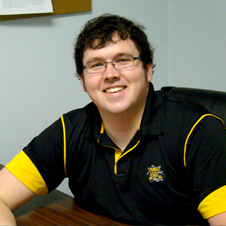 Joshua
Joshua graduated from Wichita State University in 2011 with a Bachelors in Business Administration, majoring in Entrepreneurship and minoring in Management. He has been in the manufacturing industry for 10+ years. He is currently a member of the Small Business Administration's Emerging Leaders 2014 class.
Jan
Office & Accounting Manager
Prior to joining the Integrated Management Team in 2012, Jan worked at Wesley Medical Center for three decades. Jan has brought her attention to detail and strong work ethic to Integrated Components Inc., managing AP/AR, accounting and shipping. On top of that, Jan serves as the customer service rep for one of Integrated Components' largest customers.